Hi all,
It's taken longer to get here, than I anticipated. A few reasons for that. First, I have a very short attention span; second, I had house issues; and third, I spent a week away for work. The house issues I won't go into, but they involved ants in my workshop area, which made me extremely unhappy.  The travel for work is an occasional part of my career, it also makes me unhappy, and I'm glad I don't have to do it as much anymore. The short attention span problem was tangentially related to the model.
I'm not going to sit here and make dumbass jokes about how this model had a lot of decals. Like any jet model, this thing has a large number of tiny stencils. Most are very small, and individually they don't stand out, but collectively they make the model look far better than if they weren't there. I've encountered several people on various forums and groups, who do not like to apply stencils. I think you should apply them if you want your model to look right. Whether you think you should is something else entirely, and likely of more relevance to you.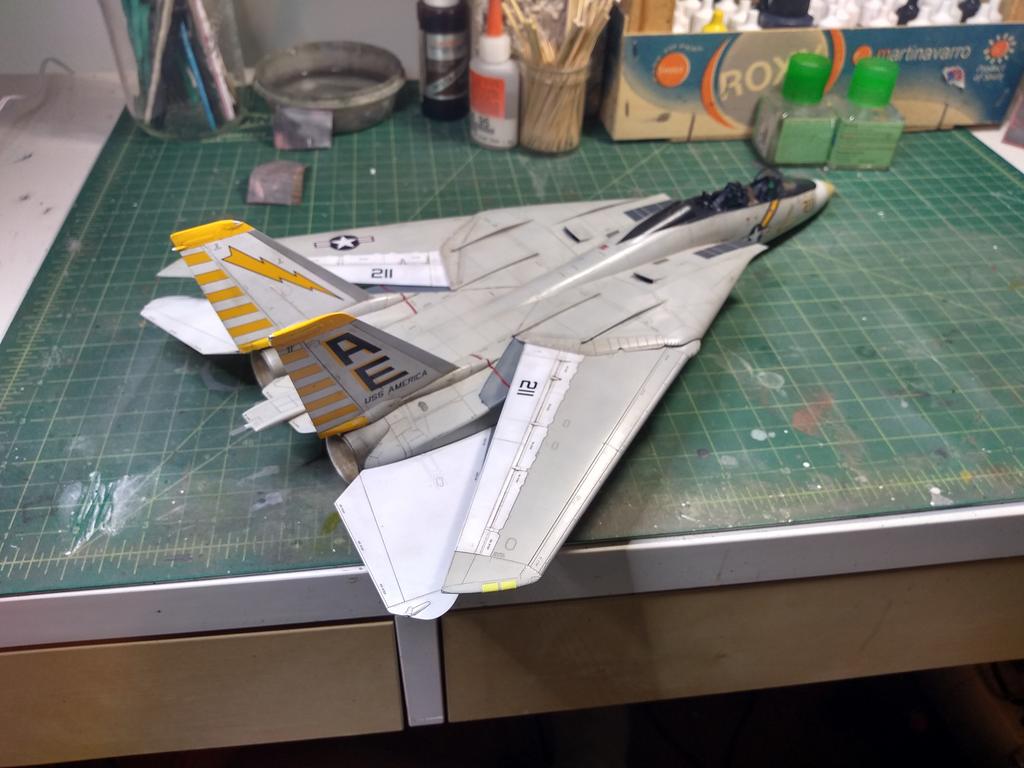 I first laid down a coat of Future. Now I know that there is a lot of talk about how only idiots put floor wax on models, but then call me an idiot. I've been using Future since 2005, and it works for me. I haven't noticed any of the apparent discoloration that others have mentioned, and I like how thick decals sort of sink into the Future coat. I get how others may have tried Future and didn't like it (you really need to develop a technique), but I also suspect that those screaming about it the loudest are just doing so to emulate their modeling idols who told them they didn't like it.
After the Future was nice and cured, I began laying down decals. I used the Tamiya decals for nearly all of the stencils, the slime lights, the national markings, and generally everything else that wasn't squadron specific. I used Mr. Mark Softer with the decals and they settled over curves and into recesses without any great issue. I think the Mark Softer slightly loosens the Future coat, and allows the slightly thick Tamiya decal to settle into it. Whatever the chemistry is that's happening, the results make me happy.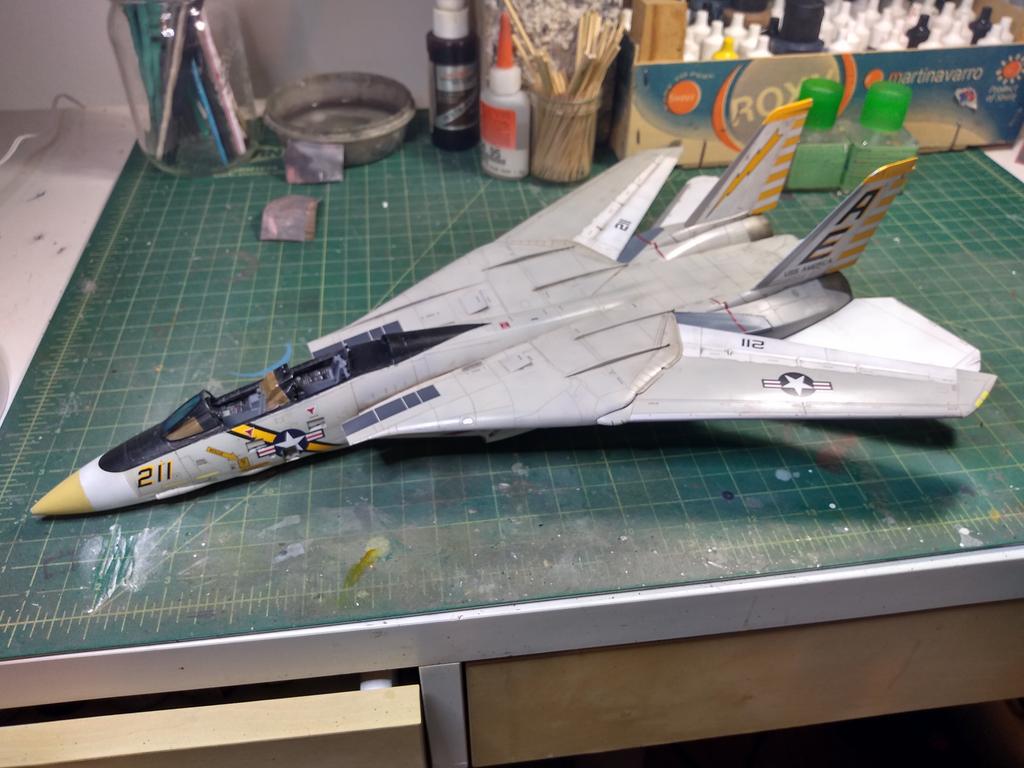 The squadron markings were from the Aeromaster Anytime Babe III sheet. This sheet is kind of dumb. Two of the schemes are essentially identical; both being VF-142 birds from the 1975 USS America cruise. The third, which is a VF-33 scheme, and the reason I purchased the sheet. Here is your caveat emptor moment for the week: I purchased the sheet off ebay, where there were no good closeups, so when I saw VF-33 with the yellow star on the black tail, I hit buy! When the sheet arrived I could finally see that the VF-33 markings are for a one-off aircraft that VF-33 borrowed from another squadron, and quickly repainted for an airshow. Why Aeromaster didn't opt instead for a proper 80s era VF-33 scheme is beyond me. If you are considering purchasing this sheet, here is as close up of a photo as I've seen on the web.  I'm typing this up away from home, and don't have photos of my own. I'll try to update when I get the chance.
Despite the lack of a good VF-33 option, I was still happy with the VF-142 scheme. I love the yellow over white markings, and I really like the unpainted radome. The Aeromaster decals worked okay. They are very thin, but pretty tough. I had a few edges flake off the big yellow markings around tail edges, but for the most part, once they were sealed, they stuck on tight. Micro Set and Sol were used with these decals.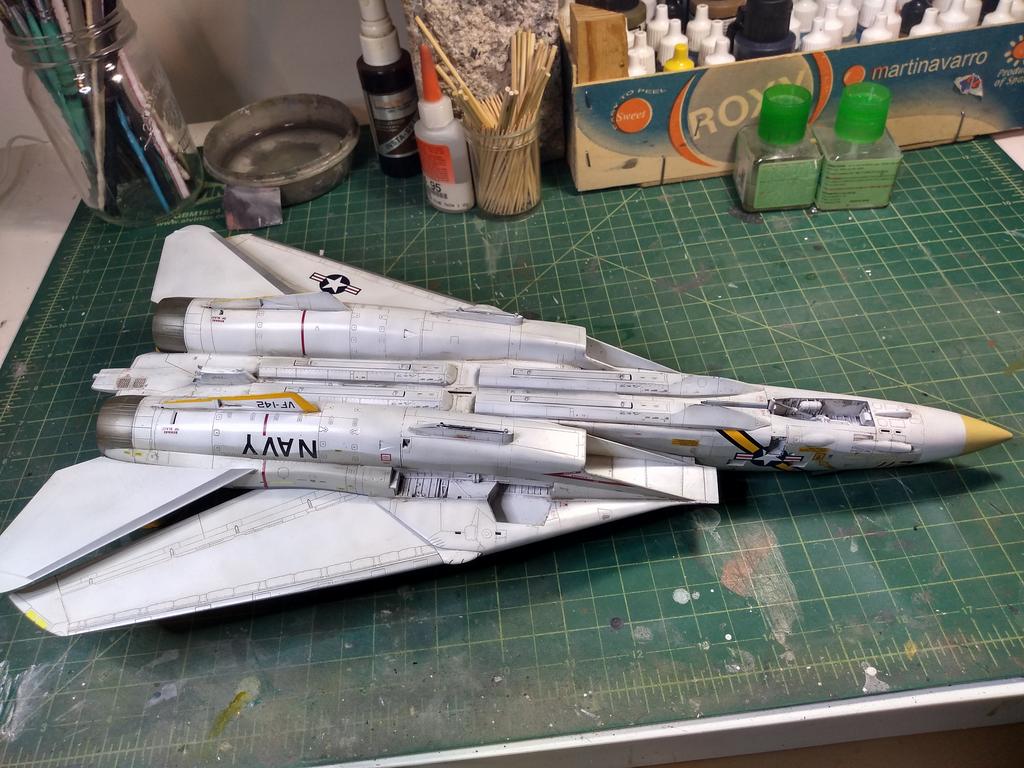 It bears mentioning that the decals were designed to fit the Hasegawa F-14 kits, which are somewhat larger than the Tamiya kits. As a result, most of the decals were a touch too "tall" for the model, and needed trimming. This was generally an easy fix and was only tricky in fitting the small "11" markings in between the stripes on the tail. The widths of the tail stripes may be a bit off, but they look fine enough for me.
All in all, I'd say I spent probably 14 non-consecutive evenings applying the decals. I did only a few at a time before losing interest and moving on to other projects. That's just how I work on these kinds of things, and it is one reason I don't build that many jets. I simply do not have the attention span to apply several dozen stencils in one sitting.
After the decals were all on, I finally glued on the wings and tails, and added the wing gloves and bag things that inflate when the wings swing forward, and deflate when they swing back. I then sealed the model with a satin coat of Tamiya clear mixed with a few drops of Flat Base.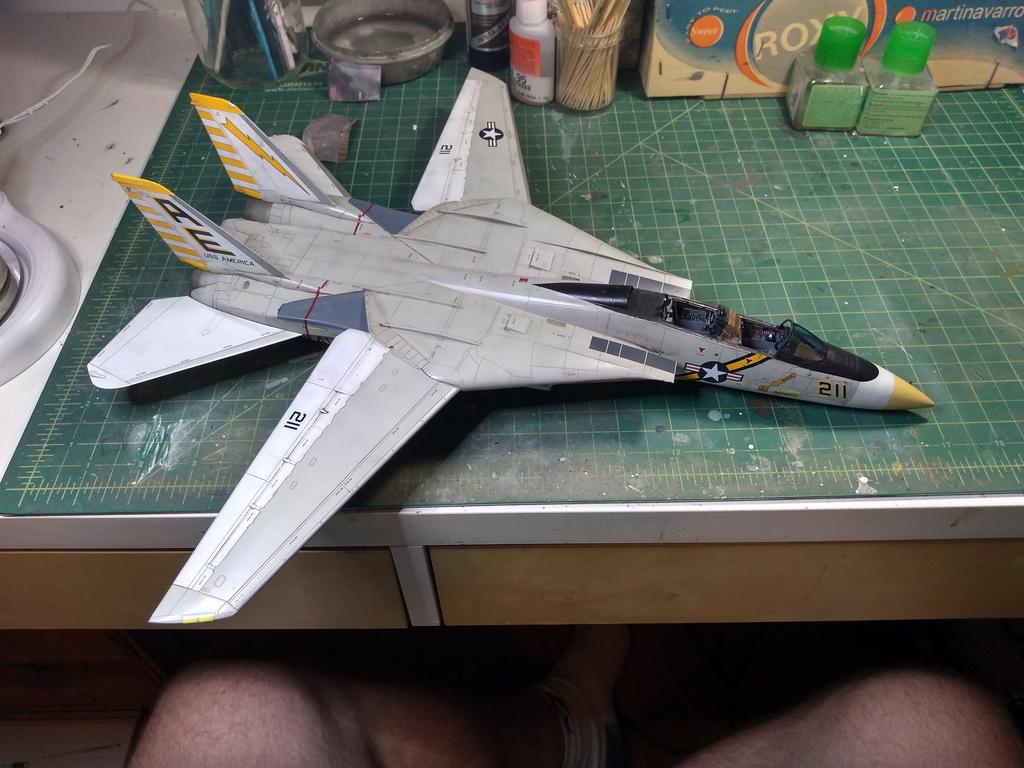 For the weathering I turned to one of the MiG premixed washes I so often scorn. I just wanted something quick, and uh…dirty. So I grabbed a bottle of neutral brown (or something like that). It is a grayish brown color that I thought would compliment the light yellowish gray of the gull grey uppers.
Guess what? This stuff works really nicely. Its an enamel based product, so after brushing it over the acrylic based clear coat, I was able to wipe it back with a cloth dipped in mineral spirits. The result, combined with the semi-opaque colors over black primer, looks pretty good. It is slightly grimy, but not too much. This model represents a pretty fresh aircraft that was on (I believe) its first time out to sea, back in 1975. I know tomcats got dirty, but I like my models to be on the cleaner side. I might still add a few oil streaks here and there, but I want to paint all the small details first.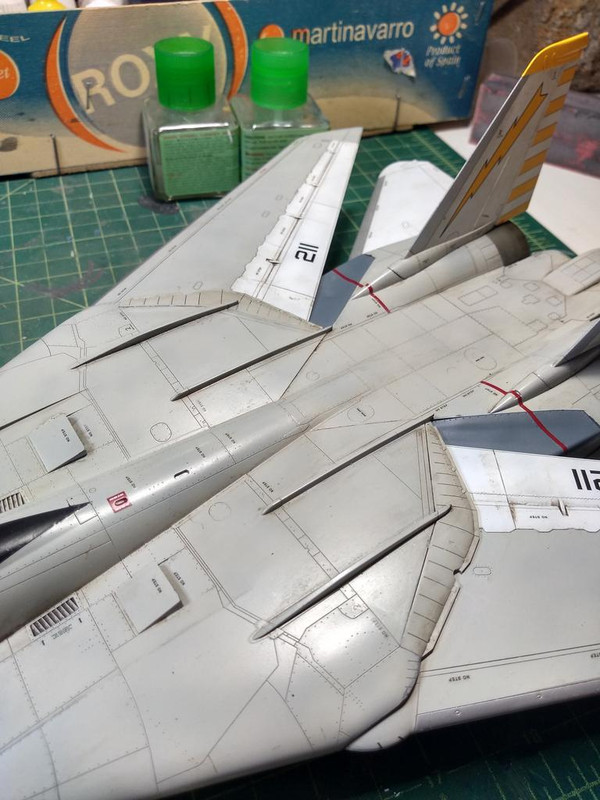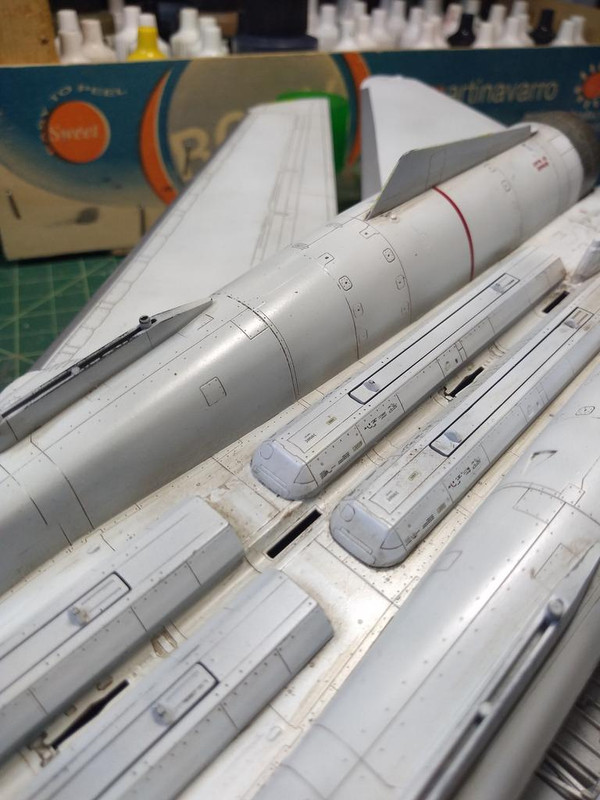 As a final step, I glued on the gear and doors that I had prepared earlier. These went on with no fuss at all. From certain angles, this tomcat seems to sit a bit higher than I thought it would. I wonder how this compares to the real thing? Maybe Tamiya modeled the gear uncompressed? Or maybe I'm just seeing things. I'm not at all sure.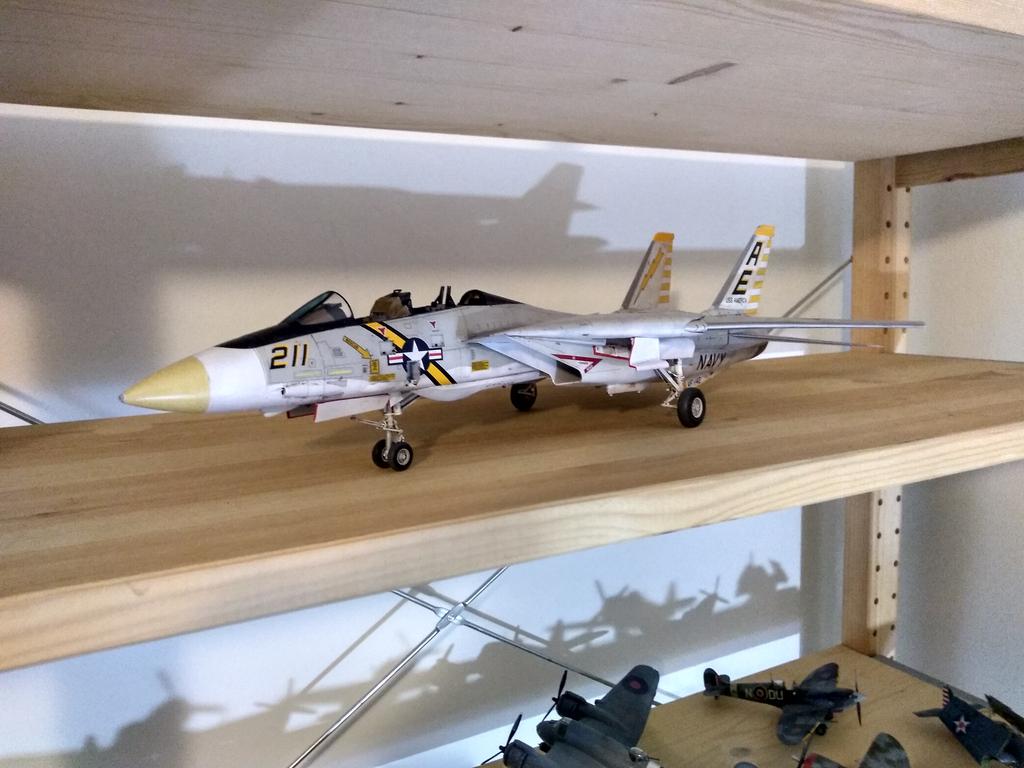 I'm getting very close to the end, but I have to admit, that I'm getting a bit tomcatted out. I think I'm going to work on something else for a while, so the next tomcat update may not come for a few more weeks. I still have to work on the canopy, the afterburners, and the missiles, with their dozens of stencil decals. It'll happen, and soon, but probably not right away.
I'm hearing the call of 72nd scale, or of 1/35th scale. Definitely of something Soviet.